INDUSTRIAL LAUNDRY VERSUS HOME LAUNDRY FOR UNIFORMS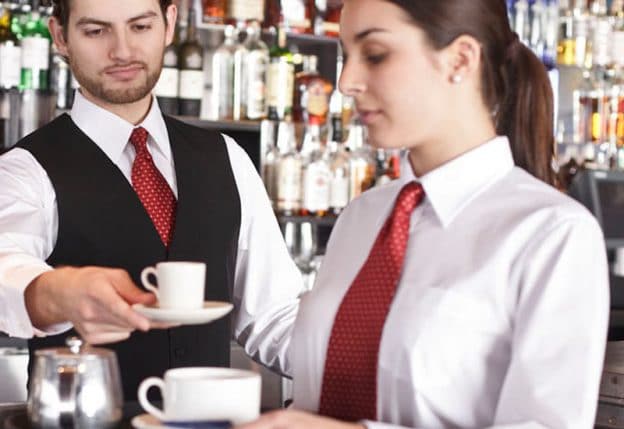 When it comes to laundering your staff's uniforms, you may have questions regarding efficiency, longevity, and the overall ability to achieve the look you're after. While the ultimate goal is a clean and professional look, there are a variety of ways to reach that objective. One major question is whether or not to use an industrial laundry service rather than home laundry alternatives. Many restaurants, clubs and resorts already use industrial laundry for linens, so it may seem natural to extend that relationship to include the staff's uniforms. However, before embarking on that route, you should be clear of the pros and cons of both laundering options.
Industrial laundry Pros:
Industrial laundry services do an amazing job of cleaning garments so they look crisp and pressed every time. The heavy, commercial chemicals can remove most stains without complication, which provides peace of mind that uniforms will be properly cleaned and ready to go. For this reason, managers find it convenient to use an industrial laundry service on a day-to-day basis. Finally, using a laundry service often results in uniformity among the staff, where every person has the same level of cleanliness and professionalism.
Industrial laundry Cons:
While industrial laundry services are great at cleaning garments, there are limitations in other areas. First, there are very limited choices when it comes to fabrics, colors, and styles of uniforms due to the industrial chemicals that are used during cleaning. These harsh chemicals can damage certain fabrics. So if your organization wants more flexibility in your fabric choices or would find it difficult to express your brand within a limited set of garment types, an industrial laundry service won't be right for you.
Using these services is also a long-term commitment that can be expensive, which is why it is often not the best choice for smaller companies and smaller staffs. In addition, it can be difficult to manage exchanging dirty and clean garments, and add uniforms to the rotation when new staff members are hired. Lastly, you will need to factor in the cost of purchasing 8 to 10 uniform sets per person to accommodate the potentially long turnaround time.
Home laundry Pros:
Requiring your employees to launder their uniforms at home allows for a quick turnaround. If you have a small staff, this method is probably ideal for you. Because you would not be limited to industrial-strength fabrics and designs, there are many more color, fabric, and style options available. For a business that wants a custom, unique look, home laundering may be necessary. Generally, fewer sets of uniforms (3 to 4 per person) are required, helping to reduce overall costs.
Home laundry Cons:
Companies of all sizes may find using a home laundry system somewhat burdensome for several reasons. Primarily, someone must oversee the whole process. Ensuring that uniforms look professional, clean, and pressed takes time and energy. Additionally, uniforms are often not as pressed after home laundering when compared to an industrial service. Some staff members may skip past the extra step of ironing each garment or not know how to do it properly.
Whether or not to use an industrial laundry service is a decision that each individual company needs to make. There is no "perfect" solution to caring for uniforms, however knowing the pros and cons of each will help you make the best choice for your organization.